If you have this .. 

• Your fart is stinky?
• You have leftover stool in your stomach?
• You have bad body odor?
• You have constipation?
• You are always bloating?
• You have a lot of acne?
• You have gained unreasonable weight?

Listen to your body! It is a warning sign from your body. If you experience any one of the above symptoms, it is a sign that it's time to detox your body!


Detoxification is a continuous process that our body shall perform naturally. Toxins enter our body through processed foods, medication, smoking, alcohol, caffeine, heavy metals, pesticides and etc. Toxins tend to stick to our gastrointestinal tract. The building of these toxins may stop nutrients from being absorbed and will impair detoxification if our body is unable to remove these toxins. Various diseases of excretory system will also occurred.
Fiber is one of the food components that supports our body's natural detoxification system. Fiber promotes the movement of waste through excretory system and increases stool bulk. Thus, it helps those who struggle with constipation. However, we cannot optimize DETOXIFICATION with fiber only. Our body requires other nutrients compounds such as PROBIOTICS and MUSHROOM EXTRACT to recharge, rejuvenate and renew our body system. M3TOX is specially formulated for those people who wish to detox or have disorders of excretory system.

What is M3TOX?

M3TOX is an "Intestinal Treasure" :

• 100% natural
• No artificial colours, flavours or preservatives
• No colicky pain
• For long-term consumption
• No laxative component
• No diarrhea
• Easy to bring along (can drink anytime)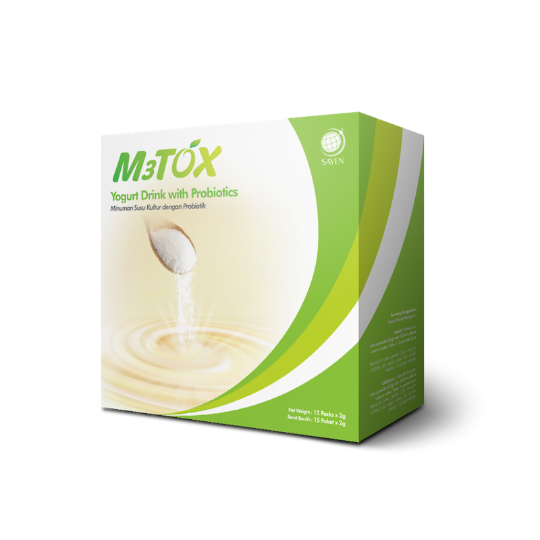 Ingredients
Bifidobacteria

Bifidobacteria is a group of "friendly" bacteria or good bacteria (probiotics) that normally live in our intestines.

Bifidobacteria is important for breaking down foods, helping to absorb nutrients and preventing the invasion of "bad" bacteria. Bifidobacteria is commonly used to improve excretory disorders.

Bifidobacteria are powerful strains that have been proven to improve digestion and excretory system. They are responsible for breaking down body waste and aiding in the absorption of vitamins and minerals in our gut.

Prebiotic is a natural water-soluble fiber found in fruits and vegetables.

Prebiotic is not digested or absorbed in our small intestines. It travels along gastrointestinal tract as food source for the beneficial bacteria (intestinal probiotics) that live in our gut. Prebiotic supports the growth of intestinal probiotics which are associated with improving bowel function.

Prebiotic improves digestive health, relieves constipation, promotes weight loss and helps to control diabetes. Some researches found that prebiotic helps to reduce blood triglycerides and LDL-cholesterol.

Ingredients
Mushrooms Extracts

Mushrooms is low in calories and high in minerals, essential amino acids, vitamins and fibers, these mushrooms extracts fight inflammation, destroy infectious microbes and slow down aging.

• Canoderma lucidum - Induce anti-oxidation and detoxification, provide protection to the gastric mucosa (beneficial for the digestive system)

• Lentinula edodes - Promote digestion, stimulate bowel movement and increase intestinal immunity (beneficial for excretory system)

• Schizophyllum commune - Enhance body strength, fatigue elimination and modulate immune cell activity (beneficial for gut health)

4 Reasons Why Must You Drink M3TOX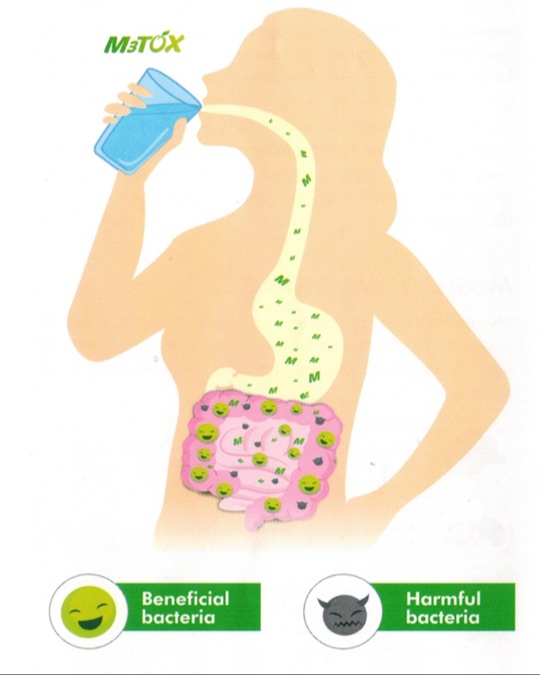 How Does M3TOX Enhance Our Quality Of Life?
• Relieve constipation
• Detoxify intestine
• Reduce excessive fat
• Reduce "bad" cholesterol
• Reduce acne

Retail Price (in Malaysia)
RM 80 per box 
(contains 15 packs, 2g per pack)
* price above exclude any shipping charges if applicable.
* terms & conditions apply.

Click here to see any special promotion or offer now.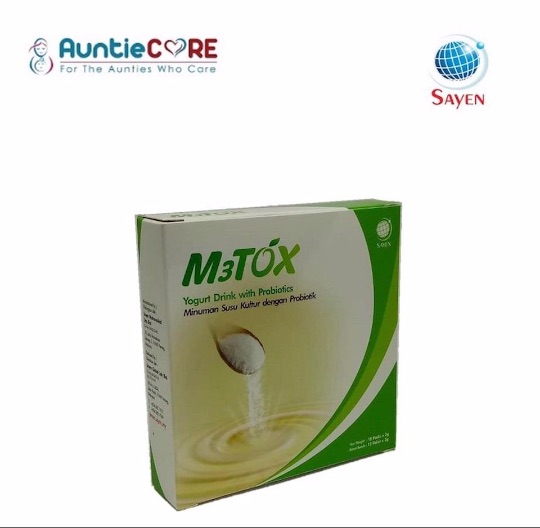 Sayen Products Are Certified By:
More questions? How to buy?
Order at our e-marketplace
[For any customers in Malaysia ONLY | Price in RM | Delivery Within Malaysia]
You can also order online from our e-marketplaces in Malaysia.
Click at your favourite e-marketplace icon below to start ordering.
⇩

Order at our webstore
[For any international customers outside of Malaysia | Price in USD | International Shipment]
You can also order online from our webstore and ship to your country.
Click at our own webstore icon below to start ordering.
⇩