Lilong FIR Energy Bucket
T-39 Lightweight, Handy & Portable (Tall Bucket Assembly)
Designed for a sitting position with far infrared (FIR) rays evenly irradiated over your feet and knee. You can just put it in your car booth, carry it along and use it anytime anywhere.

What is Far Infrared (FIR) Therapy? 
Infrared rays are a form of electromagnetic radiation, like light, that is invisible to the naked eye, also known as Bioenergetic Rays. Our body receives and also emits infrared waves, which penetrate organic substances and water heating them evenly. 
Want to know more about Infrared technology and FIR Therapy. READ MORE >>
Benefits of Lilong FIR Energy Bucket
The Science of Far Infrared Therapies - Toxin Removal
" Toxins in our body appear in water as clumps or globules. Blood circulation becomes blocked and cellular energy impaired where these toxins accumulate. However, when the energy from FIR is applied to water molecules containing toxins, the water begins to vibrate, releasing the encapsulated gases and other toxic materials back into the bloodstream where they are removed naturally by the body's normal detoxification process. One study done by American researchers showed that the sweat released by users of a FIR sauna (80-85% water) was different from the sweat released by users of a conventional sauna (75-95% water). The non-water portion of sweat released in a FIR sauna was cholesterol, fat-soluble toxins, toxic heavy metals, sulphuric acid, sodium, ammonia and uric acid ". Quote taken from the book,

"The Science of Far Infrared Therapies" by Dr Toshiko Yamazaki, MD

One of the reasons far infrared has beneficial results in a variety of illnesses is the ability of far infrared waves to remove toxins, which are often at the core of many health problems.

Dr. Toshiko Yamazaki (MD)
Author of the Book "The Science of Far Infrared Therapies" 
If you are suffering from any one of these 36 diseases, Lilong FIR Energy Bucket can help you!
Acne | Allergic reaction | Arthritis | Backache | Bad Breath Problem |
Chloasma | Cholecystitis | Cirrhosis | Clogged Blood Stream | Constipation | Diabetes | Eczema | Gout |
Heart Disease | Hepatitis | High blood pressure | High cholesterol | Hyperplasia of mammary gland | Hypertrophy Prostate | Insomnia | Kidney cyst | Liver cyst | Malnutrition | Mouth Ulcer |
Obesity | Ovary Cyst | Prostatitis | Psoriasis | Rheumatism |
Severe bronchitis | Shoulder pain | Snoring problem | Stroke | Strong Body Odour |
Unstable endocrine disorders | Uterus Fibroid

Lilong FIR Energy Bucket T-39
Specifications
Model: T-39
Size: 480*380*680 (H) MM
Power: 320W
Weight: 10kg
Packaging: one case
Features:
> Lightweight, Handy & Portable
> Tall Bucket Assembly
> Ultra large far-infrared spectrum heating panel made of carbon crystal
> Automatic power-off safety function
> Microcomputer-control system to monitor real-time temperature
> 100% solid wood casing (cedar or hemlock) imported from Canada
> Multiple patented FIR technologies
> Easy to install, disassemble and store
> Simple to use, just plug it to power point and start using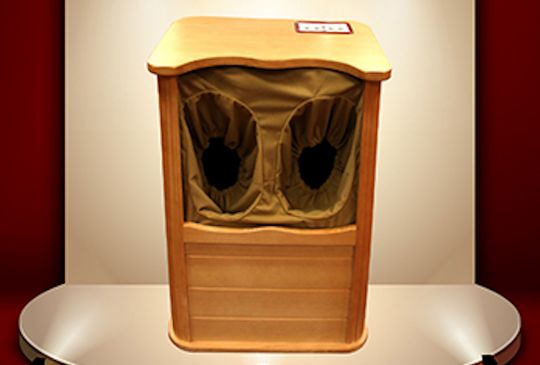 Watch Youtube video 
on the manufacturing process
All Imported Raw Materials
The exquisite wooden casing of the far infrared energy bucket product of Lilong are made from 100% imported cedar and hemlock wood from Canada, using the finest workmanship from Lilong production facility in Wuxi, China. 
Want a demo? Want to buy?