What is BG RED?

BG RED is a botanical mixture beverage with the ingredients that includes raspberry, red yeast and 5 types of mushrooms.

Raspberry is a low glycemic index (G1 value) fruit, which can delay the rise of blood sugar level; when coupled with high fiber will improve blood circulation.

Red yeast contains the best compound that can inhibit cholesterol synthesis in the body and is known as an inhibitor of HMG-CoA reductase, which helps to promote healthy serum cholesterol levels. Red yeast also contains unsaturated fatty acids that helps to promote healthy serum triglyceride concentrations.

This product is specially formulated by Sayen, for those people with busy lifestyle to BG RED prevent "3 High".

Ingredients of BG RED
• Raspberry juice powder
• Red yeast powder
• Mushroom Extract Powder
• Resistant Maltodextrin
• Inulin
• Fructose
• Vitamin C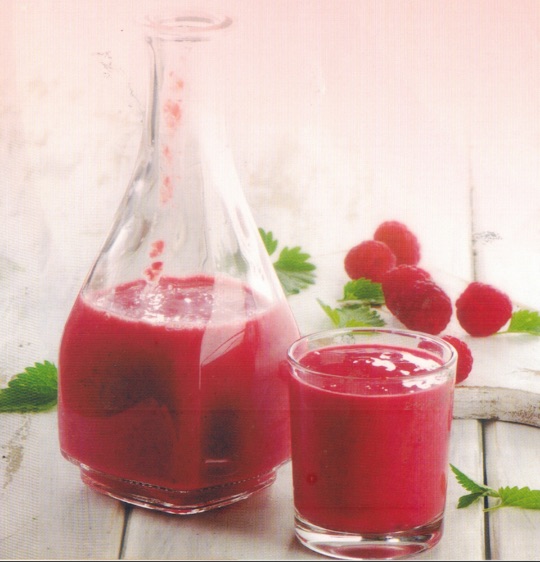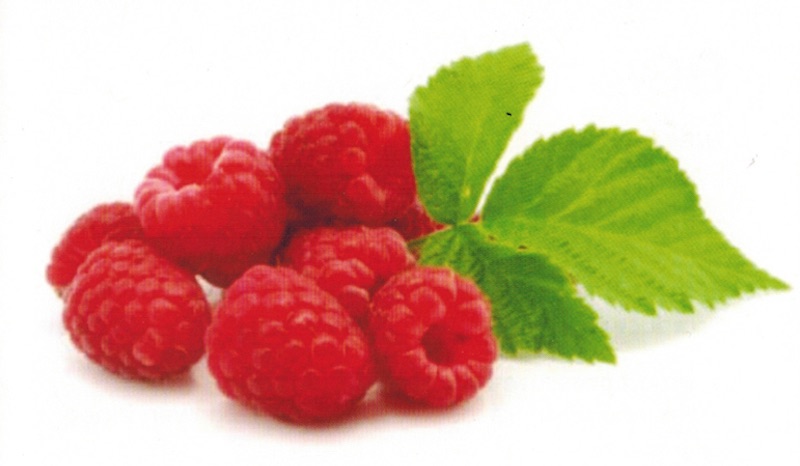 Characteristics of Raspberry
Raspberry is known as "golden fruit". Anthocyanins in raspberry can effectively reduce the damage of free radical to the brain and improve the blood and oxygen supply to the brain. The flavonoids in raspberries can improve blood circulation and enhance blood vessel elasticity thereby lowering blood pressure.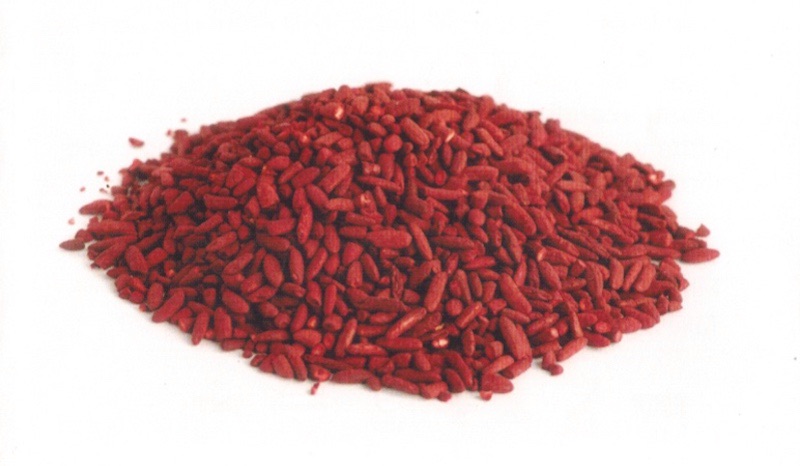 Characteristics of Red Yeast
Monacolin K in red yeast helps to suppress the function of HMG-CoA reductase and reduce blood cholesterol; being the Nobel Prize winner in 1985 has confirmed that red yeast can lower cholesterol effectively. Studies shown that Monacolin K inhibit or reduce inflammation when the arterial wall is damaged. In addition, red yeast contains gamma-aminobutyric acid (GABA) that can lower blood pressure.

Characteristics of 5 types of Mushrooms

Scientific researches show that mushrooms can slow down the body's absorption of carbohydrates, thereby stabilizing blood sugar; and enhances the body's immunity. It can also reduces plasma cholesterol levels, lowers blood pressure, and thus effectively reduces the
complications of diabetic & hypertension.

• Agaricus Blazei Murrill - Beneficial for circulatory system, diabetes and high blood lipids.
• Schizophyllum Commune - Antioxidant, alleviates diabetes & high blood pressure.
• Clavulina Cristata - Beneficial for circulatory system, regulates physical weaknesses.
• Pleurotus Eryngii - Antioxidant, prevents arteriosclerosis and hyperlipidemia.
• Grifola Frondosa - Antioxidant, beneficial for diabetes, regulates circulatory and respiratory system.


"3 High" is high cholesterol (hyperlipidemia or hypercholesterolemia), high blood sugar (diabetes) and high blood pressure (hypertension).

Today, "3 High" is a chronic diseases in modern society but many people have become
accustomed to "3 High" and feel that it is only a minor problem, and even choose to ignore it.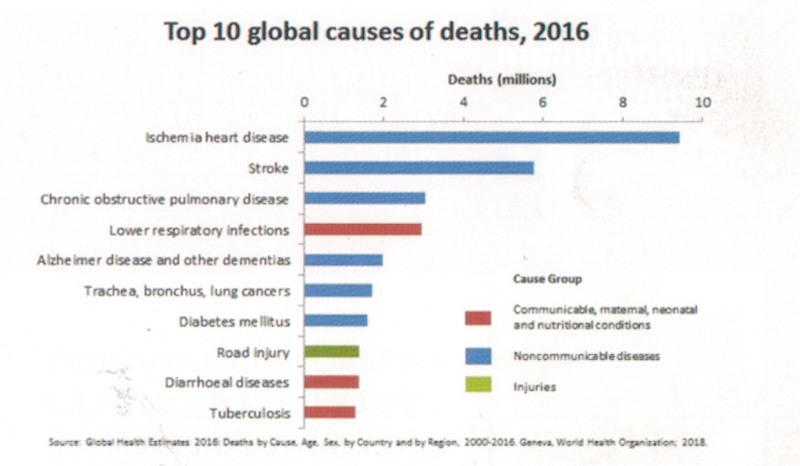 Top 10 global causes of death
We must know that "3 High" can cause a lot of complications which include stroke, cardiovascular diseases, kidney diseases and etc. that are dreadful. These chronic diseases often affect our quality of life.

Nowadays, with advanced technology and scientific research, it is possible to constantly develop various types of supplement to enhance our health quality and to prevent "3 High".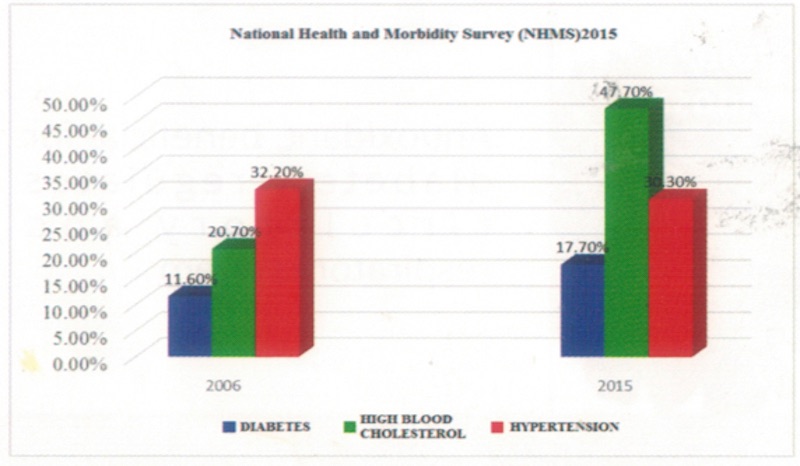 National Health and Morbidity Survey (NHMS) 
In Malaysia, based on the National Health and Morbidity Survey (NHMS) 2015 [Press Statement YB Minister Of Health Malaysia], among adults 18 years and above, 17.5% of the estimated population of 3.5 million have diabetes, 1 out of 3 (30%) or about 6.1 million people have hypertension. Almost half of the population (47.7%) or about 9.6 million people are with high blood cholesterol level.

Malaysia Population
@ 2015
18%
Diabetes
~3.5 million of Malaysia population have diabetes or high blood sugar level

30%
Hypertension
~6.1 million of Malaysia population have hypertension or high blood pressure level

48%
High Cholesterol
~9.6 million of Malaysia population are with high blood cholesterol level

How Does BG RED Enhance Our Life?
Retail Price (in Malaysia)
RM 290 per box 
(contains 30 sachets, 2g per sachet)
* price above include shipping charges within Malaysia.
* terms & conditions apply.

Click here to see any special promotion or offer now.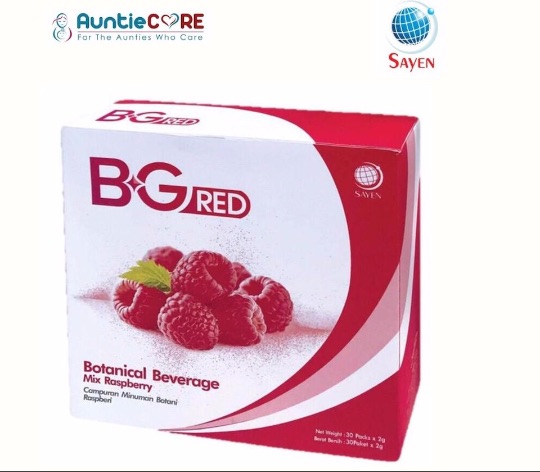 More questions? How to buy?
Order at our e-marketplace
[For any customers in Malaysia ONLY | Price in RM | Delivery Within Malaysia]
You can also order online from our e-marketplaces in Malaysia.
Click at your favourite e-marketplace icon below to start ordering.
⇩

Order at our webstore
[For any international customers outside of Malaysia | Price in USD | International Shipment]
You can also order online from our webstore and ship to your country.
Click at our own webstore icon below to start ordering.
⇩